Feature 1:
Can Be Mounted on The Floor
Feature 2:
Strong, Durable and Safety
Feature4:
Can Offer Mounting Parts
Service:
Offer OEM and ODM Service
Net Weight:
According to The Dimension That You Need
Used Range:
Road, Sideway, Widely Used in Life.
Delivery Time:
Within 25 Days After Receiving The Deposit
Dimension:
Customized Make (According to Your Requirement)
Specification:
OEM and ODM service for pipe structure products
Origin:
Suzhou City, Jiangsu Province
Product Name: Traffic bollard
Material---carbon steel Q195, stainless steel, aluminium, or as your requirement
Size-----as your requirement
Surface treatment----powder coating, hot-DIP galvanizing, chrome plating, electro-polishing,
Etc. Mainly according to your requirement.
MOQ: ----1 PCS
Payment: ----- we accept any payment term!
Packing: -----bare back packing, export carton, wooden case, etc...
According to your requirement.
OEM&ODM: ---- Available----always offer OEM and ODM services
Certificate: -----ISO, TUV, SGS
Delivery Time: -----15 to 25 working days upon receipt of the deposit.
Advantage---It is easy to assemble and dismantle, widely used in any industries.
Has a long service life without rust!
Quality Assurance:
1) Strictly inspection & discrimination before production;
2) We follow every phase of production;
3) No damaged finished product is allowed for packing.
Why you choose us?
1. We have our own factory and showroom in Suzhou, China. You can come to visit before you want to establish the business relationship with our company.
2. We have the professional design team, they can do any design according to your requirements until you think they are perfect.
3. Our products are attractive and durable; They are widely marketed in several countries and regions such as America, Europe, Canada, South Africa, Japan, Australia, etc. And enjoy a good reputation in world market for the high quality & reasonable price.
4. We have best after-sale service, no matter where and no matter when, if you get any question about our products, we will solve it at the first time.
So Suzhou Pioneer Vehicle Co., Ltd. Is no doubt of your first supplier!
We are professional in making and designing various metal products.
What we can do for you
1. Reply in 3 hours after receiving inquiry;
2. Free samples will be sent within 10days.
3. Customized products are welcome, we have 8 professional designers& senior engineers;
4.20 fulltime QC in production sites to control quality of every production lines
5. No matter big or small orders, we consider all as VIP orders
6. Different styles of clothes hangers & racks available, made by different materials, which make sure there must be the right ones you need.
· A large expo-oriented manufacturer and supplier specialized in household products
· With own design, R&D, manufacturing and sales system
· Has high-precision production equipments: Pipe production line, power-coating line, , bending equipments, punching machines, welding equipment.
· Obtained ISO9001: 2008 Quality Management System Certification
· Support OEM &ODM products, welcome new design!
About Inquiry--- Please contact me to get the best price:
(If you have Skype or MSN, this will be more convenient, let's chat online)
Contact me<>
Rita Yang
Tel <> 0512-6768-3358
Mobile:+ 86-15262487939
We can offer OEM and ODM services, Welcome new design!
Product Name 
bollard
Item No


Material
carbon steel Q195, stainless steel, aluminium,  or as your requirement
Size
as your requirement
Surface treatment
powder coating, hot-dip galvanizing, chrome plating, electro-polishing, 
etc. mainly according to your requirement.




MOQ
1Â pcs
Payment
we accept any payment term!
Packing
bare back packing, export carton, wooden case, etc.. 
according to your requirement.
OEM&ODM
Available----always offer OEM and ODM services
Certificate
ISO, TUV, SGS
Delivery Time
15 to 25 working days upon receipt of the deposit.
Advantage
It is easy to assemble and dismantle,widely used in any industries. 
Has a long service life without rust!
 Quality Assurance:
1) Strictly inspection & discrimination before production; 
2) We follow every phase of production;
3) No damaged finished product is allowed for packing.
 
Why you choose us?  
1. We have our own factory and showroom in Suzhou, China . You can come to visit before you want to establish the business relationship with our company.
 
2. We have the professional design team, they can do any design according to your requirements until you think they are perfect.
 
3.  Our products are attractive and durable; They are widely marketed in several countries and regions such as America,
 Europe, Canada, South Africa, Japan, Australia, etc.
 And enjoy a good reputation in world market for the high quality & reasonable price. 
 
4. We have best after-sale service, no matter where and no matter when, if you get any question about our products, we will solve it at the first time. 
 
So Suzhou Pioneer Vehicle Co., Ltd. is no doubt of your first supplier!
 
We are professional in making and designing various metal products.
 
 
What we can do for you                                              
1.Reply in 3 hours after receiving inquiry;
2. Free samples will be sent within 10days. 
3. Customized products are welcome, we have 8 professional designers& senior engineers;
4.  20 fulltime QC in production sites to control quality of every production lines 
5.  No matter big or small orders, we consider all as VIP orders
6. Different styles of clothes hangers & racks available, made by different materials, which make sure there must be the right ones you need.
 
7 A large expo-oriented manufacturer and supplier specialized in metal products
8 With own design,R&D,manufacturing and sales system
9 Has high-precision production equipments: pipe production line, power-coating line, , bending equipments, punching machines,  welding equipment.
10 Obtained ISO9001:2008 Quality Management System Certification
11 Support OEM &ODM products, welcome new design!
 
Gas Fastening System is a very popular and very efficient building Fastening System which include gas tool, fuel cell and strip fasteners. Gas tool absorbs flammable gas from fuel cell and mixes it in its air cylinder. The mixture is ignited by electric device and produce a lot of high pressure gas which push the piston go forward to push the strip fastener into the concrete or wood basement. Compared with General Purpose Powder Actuated Fastening System, it is much more quicker and efficient. But it is not used for very hard basement for its highest power energy is no more than 110 Joules.
Gas tool: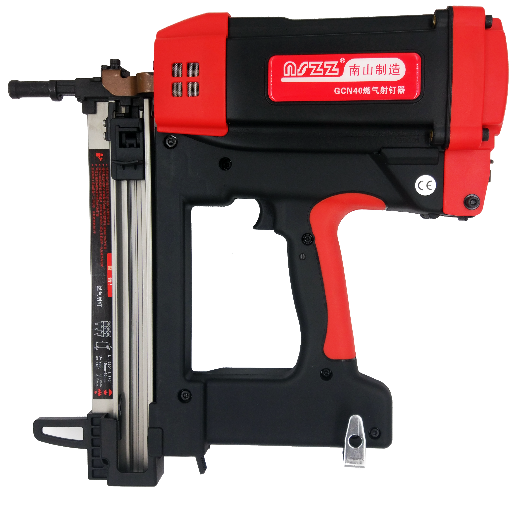 Fuel Cell:

Strip Fasteners: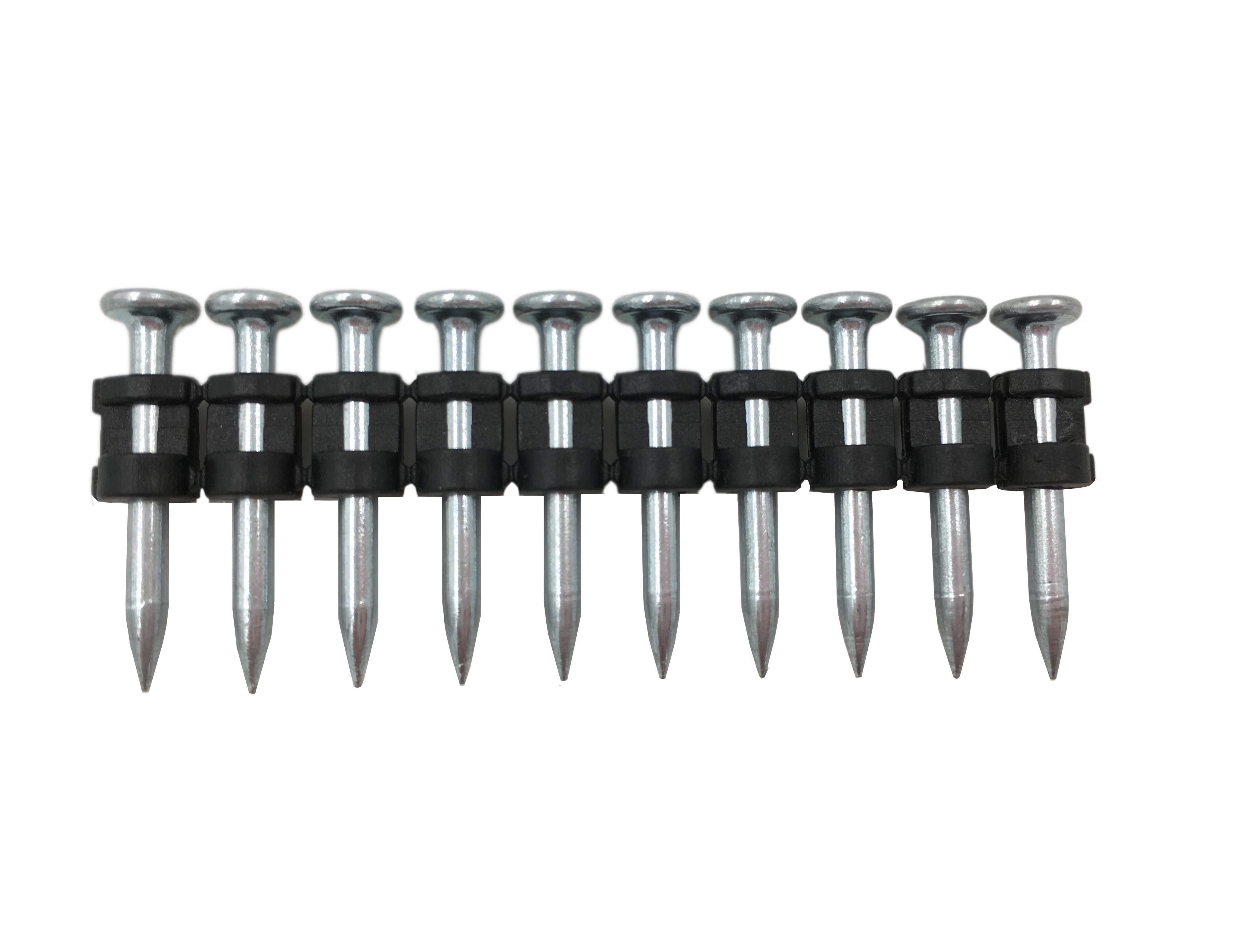 The packages are as the following:
1.Gas tool and its spare parts will be packed by a plastic box with a carton;
2.10 Fuel Cells are packed by 1paper box, 12 boxes are packed by one carton.
3. 1000 strip fasteners are packed by 1 paper box, 5 or ten 10 paper boxes are packed by one carton.
YIBIN CITY NANXI DISTRICT QIANGXIN PLASTIC CO.,LTD. , https://www.homsetfastening.com